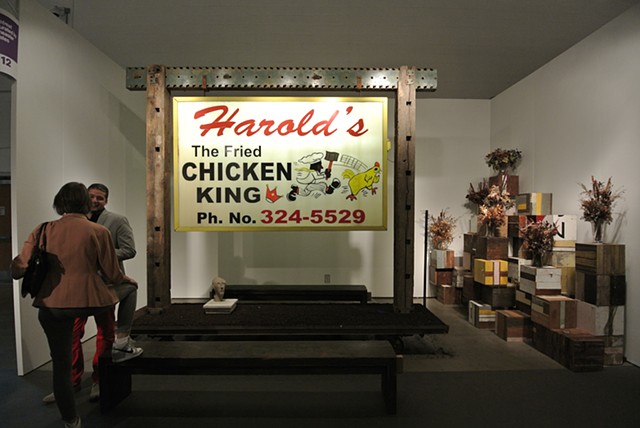 Erika Allen and Mitchell Squire (w/Theaster Gates)
RETREAT (EXPO CHGO - Special Exhibition)
Curated by Theaster Gates
September 18 - 21, 2014
World renowned Chicago-based artist Theaster Gates curates "Retreat" as a special exhibition for EXPO CHICAGO 2014, exploring the ways in which artists of color perform an act of withdrawal to gain a position of strength and perspective when communicating through art. Gates proposes a site-specific installation by artists Erika Allen and Mitchell Squire as a satellite show to his exhibition of the same name taking place between Valerie Carberry and Richard Gray galleries within the Hancock Building, extending the thesis of "Retreat" to the EXPO audience. The booth will be a combination of architectural elements and living green structures created by Allen and Squire to create a space of retreat within the art fair—an interactive space that invites conversation and contemplation. The booth will also feature the launch of the exhibition publication "Retreat," featuring essay contributions by Associate Curator at the Renaissance Society Hamza Walker, and Associate Professor in Visual and Critical Studies at the School of the Art Institute of Chicago Romi Crawford.
Mitchell Squire: Material Realities (of Exactly What Defines an Ambiguous Act: OR, another kind of manifest destiny), 2009
60 modules of reclaimed wood, 12 x 12 x 12 inches each, site-composed with dried flower arrangements